National Bloody Mary Day – New Year's!
Start the Year Off Right With this Delicious Bloody Mary Recipe!



New Year's Day is National Bloody Mary Day, and with good reason!
Here at My Big Fat Bloody Mary Offices, hangovers and bloody Mary's are an everyday occurrence, but for many New Year's morning presents a unique situation. After a night of exceptional celebration, many find themselves compromised and confused. Allow us to guide you.
A splitting headache and an overwhelming feeling of malaise call for the restorative magic of the bloody Mary. This recipe will provide much-needed nourishment.  Down a couple of aspirin with a big glass of water and gather the following:
Directions:
Fill a stout glass with ice. Add all ingredients, Roll between glass and cocktail shaker several times until fully mixed and chilled.  Crack a bit more black pepper over the top, along with a pinch of celery salt. Garnish with whatever looks good in your refrigerator. We like pickled asparagus, olives, celery and cheese. Serve with a beer chaser.
Feeling adventurous? Try one of these gourmet bloody Mary recipes: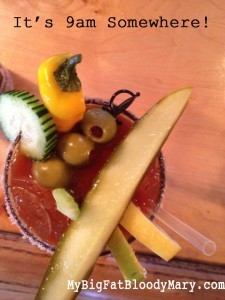 Cheers and Happy New Year!
~MBFBM